Virtual Conference On-Demand
Advanced Administrative Law & Practice
Catch-up on critical information – on your own time.
The 21st Annual Advanced Administrative Law & Practice took place October 27—28, 2021. Our outstanding faculty share insights on the most compelling topics impacting their daily lives and practices. See a snapshot of the event below then purchase the recording to watch at your convenience.
We have designed an agenda filled with in-depth discussions on Canada's evolving administrative law:
FOCUS ON CHARTER CHALLENGES
Analyze how legal action may infringe upon a person's rights under the Charter of Rights and Freedoms.
FOCUS ON
VIRTUAL COURTS
Measure efficiencies and improve professionalism for practicing in a virtual court.
FOCUS ON EQUALITY, DIVERSITY, AND INCLUSION
Grow your mentorship and succession planning with an EDI focus.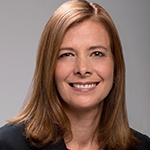 Lori Sterling
Senior Counsel
Bennett Jones
Former Deputy Minister of Labour and Associate Deputy Minister, Employment, Skills Development Canada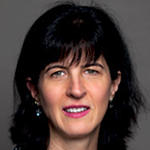 Martine Valois, Ad.E.
Associate Professor, Faculty of Law
University of Montreal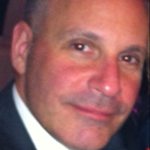 Michael H. Morris
Senior General Counsel
Justice Canada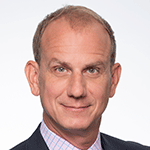 Luc Bélanger
Chairperson
Council of Federal Tribunal Chairs (CFTC)
Chair
Canada Agricultural Review Tribunal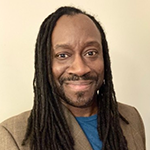 Richard D. Sharpe
Director, Equity, Anti-racism, Diversity and Inclusion
Justice Canada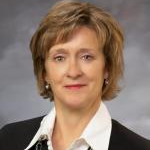 The Hon. Karen M. Horner
Justice
Court of Queen's Bench of Alberta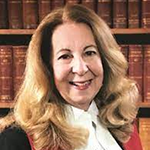 The Hon. Mary T. Moreau
Chief Justice
Court of Queen's Bench of Alberta
CONFERENCE HIGHLIGHTS
Examining Charter Rights amid a Pandemic: What is the Government's Scope of Emergency Powers to Restrict and Restrain Freedoms?
Case Law Developments Post-Vavilov: A Practical Review of Procedural Fairness and Reasonableness
Inside the Top 5 Challenges Vulnerable People Experience When Interacting with the Justice System and Finding Solutions
Administrative Monetary Penalties (AMPs): How to Effectively Apply Investigative and Enforcement Strategies
How to Write Reasons after Vavilov: Defensible Decisions, Access to Justice and Plain Language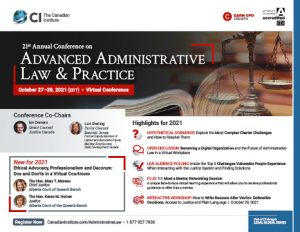 Conference Program
Look at our 2021 conference agenda to discover the informative topics discussed at this event
VIEW PROGRAM