Agenda (Eastern Daylight Time)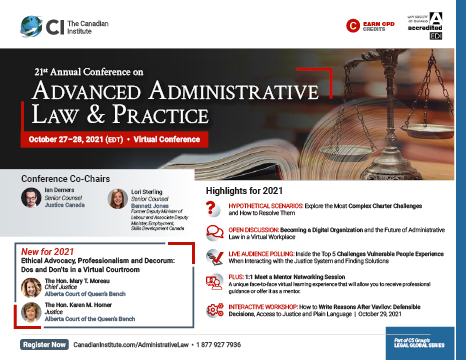 Conference Program
Flip through our 2021 conference brochure and discover what's new this year.
View Program
Day 1 - Wednesday, October 27, 2021
| | |
| --- | --- |
| 10:00 | |
| 10:15 | KEYNOTE ADDRESS |
| 10:45 | HYPOTHETICAL SCENARIOS |
| 11:45 | Break |
| 12:15 | |
| 1:15 | |
| 1:30 | Break |
| 2:00 | |
| 3:00 | OPEN DISCUSSION |
| 3:45 | Break |
| 4:15 | |
| 5:15 | |
| 6:15 | Closing Remarks from the Co-Chairs |
Day 2 - Thursday, October 28, 2021
| | |
| --- | --- |
| 10:00 | |
| 10:15 | THINK TANK |
| 11:15 | CASE STUDIES AND SCENARIOS |
| 11:45 | |
| 12:00 | Break |
| 12:30 | |
| 1:30 | PANEL |
| 2:30 | Break |
| 3:00 | HYPOTHETICAL SCENARIOS |
| 3:45 | LIVE AUDIENCE POLLING |
| 4:30 | Break |
| 4:45 | |
| 5:45 | Closing Comments from the Co-Chairs |
Post-Conference Workshop
Oct 29, 2021
10:00am – 1:30pm
Speakers


Paul Aterman
Chairperson
Social Security Tribunal


Angus Grant
Assistant Deputy Chairperson - Refugee Appeal Division
Immigration & Refugee Board of Canada
Day 1 - Wednesday, October 27, 2021
10:00

Ian Demers
General Counsel
Justice Canada

Lori Sterling
Senior Counsel
Bennett Jones
Former Associate Deputy Minister, Justice Canada

10:15

KEYNOTE ADDRESS

Harry S. LaForme
Senior Counsel
Olthuis Kleer Townshend LLP
Justice, Ontario Court of Appeal (ret.)

10:45

HYPOTHETICAL SCENARIOS

Paul Daly
Research Chair in Administrative Law & Governance
University of Ottawa

Jennifer Klinck
Partner
Juristes Power Law

Christian Leblanc
Partner
Fasken Martineau DuMoulin LLP

Explore case studies and hypothetical scenarios to discover what practical applications could find continued use beyond pandemic restrictions.

Maintaining the integrity of evidence
Equality for people with disabilities
Right to an in-person hearing and right to a hearing in a reasonable time, for those unable to attend
Developments in juris prudence

11:45

Break

12:15

Ian Demers
General Counsel
Justice Canada

Rahool P. Agarwal
Partner
Lax O'Sullivan Lisus Gottlieb

Nadia Effendi
Partner
Borden Ladner Gervais LLP

Examining the government's authority to issue restrictions to a person's "life, liberty or property" and what is a protected liberty? 
Restricting travel across provincial boarders with a look at Taylor v. Newfoundland and Labrador, 2020
Challenging the federal quarantine hotel policy with a look at:

Canadian Constitution Foundation v Attorney General of Canada, 2021 ONSC
Spencer v. Canada (Attorney General)

Challenging in-person attendance for children attending school, with a look at:

Karounis c. Procureur général du Québec, 2020 QCCS

Government authority to limit spread of virus in penitentiaries, including self-isolation, with a look at:

Cyr c. Pilon, 2020 QCCS 1645, autor. ref. 2020 QCCA

Challenging curfew restrictions with a look at:

Desrochers c. Procureur général du Québec, 2021 QCCS 311, par. 61–66, autor. ref. 2021 QCCA
Lévesque c. Procureur général du Québec, 2021 QCCS

Restricting freedom of religion and freedom of assembly rights, with a look at Conseil des juifs hassidiques du Québec c. Procureur général du Québec
Challenges to workplace restrictions as a result of the pandemic:

Sharma v City of Toronto and duty to accommodate
Ontario Infectious Diseases Emergency Leave
Ontario Mandatory Immunization Policy in Long Term Care Home

1:15

Speakers and delegates are invited to join an open discussion room. Turn on your camera and audio.

This session will not be recorded.

1:30

Break

2:00

The Hon. Mary T. Moreau
Chief Justice
Court of Queen's Bench of Alberta

The Hon. Karen M. Horner
Justice
Court of Queen's Bench of Alberta

Practicing with civility in the courtroom or the boardroom
Treating the court, tribunal, opposing counsel, parties and others with courtesy and respect
Encouraging respect for legal institutions or authorities
Complying with parameters for acting as a witness
Complying with parameters for communicating with witnesses giving evidence

3:00

OPEN DISCUSSION

Nathalie Théberge
Vice-Chair and CEO
Copyright Board of Canada
Vice-Chair
Council of Federal Tribunal Chairs (CFTC)

François Levert
Regional Vice-Chairperson – Atlantic Region
Parole Board of Canada

During this session, we will explore the results of a survey on the impact of the COVID-19 pandemic on federal administrative tribunals conducted by the Council of Federal Tribunal Chairs (CFTC). We will also see how the Parole Board of Canada was successful in addressing some of the challenges created by the pandemic, notably in regard to dealing with populations with particular needs. Attendees are invited to turn on their camera and audio as this session will not be recorded.

Addressing challenges when adapting to virtual hearing environments
Accommodate the needs and characteristics of certain populations
Overcoming hurdles encountered in facilitating the participation of other stakeholders, for example victims and assistants, to have them engage meaningfully in a virtual parole review process, will be discussed.

3:45

Break

4:15

Luc Bélanger
Chair
Council of Federal Tribunal Chairs (CFTC)
Chairperson
Canada Agricultural Review Tribunal

Daniel Stern
Director, Regulatory Law and Policy
TELUS

A look at Bill C-10 An Act to amend the Broadcasting Act (2020) which allows the CRTC to impose administrative monetary penalties (AMPs) for violations for non-compliance with regulations or orders
Developing AMP regimes with administrative law principals
Delineating compliance, inspection and enforcement powers
Ensuring procedural fairness, including ensuring the parties ability to respond and ensuring an impartial decision-maker

5:15

Hadayt Nazami
Partner
Nazami & Associates

Colleen Bauman
Partner
Goldblatt Partners LLP

Examining the Supreme Court of Canada's landmark decision in Canada (Minster of Citizenship and Immigration) v. Vavilov, (2019)
Examining the statutory appeal rights and the standard of correctness with a look at:

Bell Canada v. Canada (Attorney General) 2019 SCC
Canada Post Corp. v. Canadian Union of Postal Workers, 2019 SCC
National Football League, et al. v. Attorney General of Canada

Establishing clarity when reviewing an administrative decision under the responsibleness standard and rebutting the presumption of reasonableness
What can trigger the court to quash a decision? Can the court quash as law?

6:15

Closing Remarks from the Co-Chairs
Day 2 - Thursday, October 28, 2021
10:00
10:15

THINK TANK

Edith Bramwell
Chairperson
Federal Public Sector Labour Relations and Employment Board

Richard D. Sharpe
Director, Equity, Anti-racism, Diversity and Inclusion
Justice Canada

Value of diversity and inclusion
Understanding power and privilege, unconscious bias or cultural homophily
Impact of daily verbal, behavioural and environmental indignities
Special responsibilities of lawyers and paralegals to respect the human rights laws in force in Ontario
How to prevent and address discrimination and harassment
Best practices for workplace diversity and inclusion

11:15

CASE STUDIES AND SCENARIOS

Barbara de Dios
Head of Mentorship
Global Lawyers of Canada
Corporate Counsel
Canadian Dental Services Corporation

Maneesha Gupta
Mentorship Chair and Board of Directors
Federation of Asian Canadian Lawyers
Legal Counsel
TD Bank

A look at how mentorships are addressing the challenge of under-represented and marginalized communities in the legal profession and how mentorship programs are fostering diverse and inclusive culture.

How mentorship programs are fostering diverse and inclusive culture

11:45

A unique face-to-face virtual learning experience that will allow you to receive professional guidance or offer it as a mentor. Come camera ready for an informal 1-on-1 conversation about honing skills and building your career. This is a great opportunity to foster growth within the industry and make a new connection. Mentors and Mentees will be randomly matched during a 15-minute discuss. Participants are encouraged to turn on their camera and audio for a face-to-face discussion and click connect to share contact details.

To participate* as either a mentor or a mentee, email Desiree Finhert at [email protected].

*Participation in this networking session is for registered delegates only.

12:00

Break

12:30

Justin H. Nasseri
Founding Partner
Ross Nasseri LLP
Chair, Civil Litigation Executive Committee
Ontario Bar Association

Brennagh Smith
Acting Practice Lead, Prosecutions
City of Toronto, Legal Services

Use of dispositions and findings of fact—what use can be made of a decision from one proceeding in another? (e.g. the use that can be made of criminal acquittals and convictions, no contest pleas, findings of professional misconduct, and civil judgments)
Use of evidence and investigation materials—what, if any use can be made of evidence and findings from related cases? (e.g. the use of material from disciplinary proceedings in courts, the use of evidence from criminal or civil proceedings, the use of discovery and other transcript evidence, and use of information collected by other enforcement authorities)
Strategic and ethical issues for overlapping or related proceedings

Advising clients on fighting a multi-front battle;
Strategic issues around procedure and timing (e.g. can one type of case be stayed or adjourned pending another and how)

Ethical issues around advising clients on their options and whether to choose one or more routes (criminal complaint, regulatory complaint, civil action)

Impact of collateral attack jurisprudence and the doctrine of exhaustion

1:30

PANEL

Christopher Rootham
Partner
Nelligan Law

Carolyn Slon
Senior Legal Counsel, Office of the Secretary
Ontario Securities Commission

Ensuring openness and transparency in administrative proceedings and taking into account privacy concerns and confidentiality issues can be a delicate balance. This session will explore topics including:

The "Open Court" principle and administrative tribunals
The applicable statutory framework
Protecting personal information—additional concerns in a digital age
Confidentiality orders under the Tribunal Adjudicative Records Act, S.O. 2019, c. 7, Sched. 60— recent case law and best practices for parties making confidentiality requests and tribunal panels making confidentiality orders
Dealing with privilege issues before an administrative tribunal (solicitor-client privilege, litigation privilege and settlement privilege)

2:30

Break

3:00

HYPOTHETICAL SCENARIOS

Jennifer Khurana
Chair
Canadian Human Rights Tribunal

Shannon Salter
Chair
Civil Resolution Tribunal

Marisa Victor
Vice-Chair
Landlord and Tenant Board, Fire Safety Commission
Member
Animal Care Review Board and Licence Appeal Tribunal

With self-represented individuals appearing before tribunals and courts in important numbers, it is important that they be able to fairly navigate these institutions. This session will address practical ways of assisting such parties throughout the administrative process, and particularly in hearings through a series of hypothetical scenarios. Making A2J meaningful for SRLs – strategies for Tribunals and client services:

Exploring how plain language is critical for ensuring that self-represented litigants have meaningful access to processes
Analyzing how logistics such as access to technology does not always equate to A2J
Building core competencies in adjudicators to work with SRLs
Discussing active adjudication through the lifecycle of a file
Examining what front-line staff can teach us about the needs of self-represented litigants
Consulting your users – why data is important to inform changes to improve the service you provide to SRLs

3:45

LIVE AUDIENCE POLLING

Michelle Alton
General Counsel
Workers' Compensation and Workers' Compensation Appeals Tribunal

Karen E. Andrews
Staff Lawyer
Advocacy Center for Tenants Ontario

Michael Gottheil
Chief of the Commission and Tribunals
Alberta Human Rights Commission

Kelly J. Serbu Q.C.
Counsel
Serbu Law Firm Limited

Participate in real-time anonymous polling.

Defining what circumstances identifies a person as being vulnerable, either prior to their interaction with the justice system, or because of it
Establishing a fine balance for providing information and meaningful access and participation while maintaining fairness
Identifying human rights issues and procedural fairness challenges

4:30

Break

4:45

Andrew Brouwer
Senior Counsel, Refugee Law
Office of Legal Aid Ontario

Maureen Silcoff
Past President
Canadian Association of Refugee Lawyers
Instructor, Immigration and Refugee Law
Lincoln Alexander School of Law

Heather Gibbs
Assistant Deputy Chairperson, Immigration Division
Immigration and Refugee Board of Canada

Antoine Collins
Member (Adjudicator), Refugee Protection Division
Immigration and Refugee Board of Canada
President
Ottawa Chapter, Canadian Black Lawyers Association

Federal Court of Appeal issued a decision in Canada (Citizenship and Immigration) v. Canadian Council for Refugees, 2021 FCA 72 reaffirming that the application of the Safe Third Country Agreement at Canadian and U.S. land ports of entry remains in effect.

Redefining jurisdiction
Challenging state action
What is open to review

5:45

Closing Comments from the Co-Chairs
How to Write Reasons after Vavilov: Defensible Decisions, Access to Justice and Plain Language

Paul Aterman
Chairperson
Social Security Tribunal

Angus Grant
Assistant Deputy Chairperson - Refugee Appeal Division
Immigration & Refugee Board of Canada
What is it about?
Join this interactive small-group experience. The first 90 minutes of this session will be instructive, followed by a 30-minute refreshment break. The last two hours of this session will include interactive exercises to develop real-world decision-writing skills. Delegates will be invited to share their audio and video.
Meaningful ways administrative tribunals can justify decision making
Ensuring fairness, quality and consistency in decision making
Articulating your interpretation and fully explaining your decision and writing effective decisions
Finding efficiency in writing decisions amid high-traffic tribunals
Establishing your board's expertise
Exploring the standard of "correctness"
Honing your redaction skills