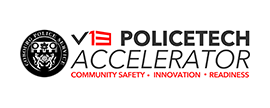 Venture13 Police Tech Accelerator
We help first responders train anywhere, anytime through virtual reality.
With our realistic and immersive tactical training system, armed professionals are no longer limited to the constraints of geography or safety risks in order to train team tactics. More cost-effective and safer than live fire training, the flexibility of projectile-free simulation is that it creates a safe to fail environment for students to learn in. We have connected real firearms to virtual training environments to help law enforcement and military members get better access to training that can save lives.
Since 2020 we are focused on supporting Canadian military training through virtual reality training systems. As a veteran-owned Canadian business, we believe in building good equipment that is deployable and robust; paired with services from instructors with a passion to build students up in line with organizational goals.