Participate in Canada's first interactive conference and expo to showcase your latest technology solutions specifically tailored for law enforcement. Network with over 100 policing professionals and senior public safety leaders on our Expo floor while viewing and seeing demonstrated the newest devices and services are being used in police departments, security services, and law enforcement agencies around the world.
Don't miss this extraordinary opportunity!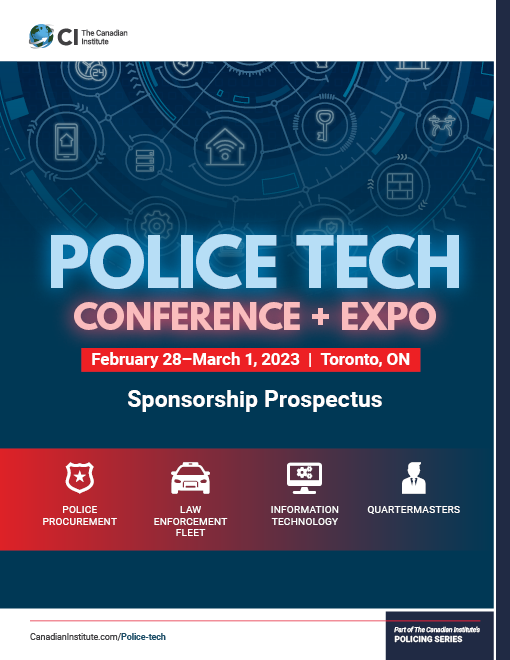 Sponsorship Prospectus
Get your copy of the prospectus and discover ways to get involved!
DOWNLOAD THE PROPECTUS
BENEFITS OF SPONSORSHIP
Lead Industry Discussions
Make Lasting
Valuable Connections
Share Knowledge
Lead Generation
Gain Market Intelligence
Expand Your Network
Gain A Competitive Advantage
Create Business Opportunities
Deepen Established Relationships
Network With Peers
Discover Market Needs
Meet With New Leads
Develop Strategic Partnerships
Showcase Your Business Options
Game Changer Hub
Attention: Incubators, Accelerators, Research Institutes and SMEs
Showcase your innovation and capitalize on the opportunity to display your cutting-edge law enforcement solutions at the Game Changer Hub in the Tech Expo.
Engage with Canadian and international participants searching for new options to Improve public safety, increase police efficiency, and deliver an optimal return on investment.
CONTACT US
Discuss how your company can be a part of this unique event. Reach out to Ken Glass, Senior Business Development Manager to discuss opportunities.
Email Ken
Receive exclusive discounts, offers and agenda updates directly to your inbox.