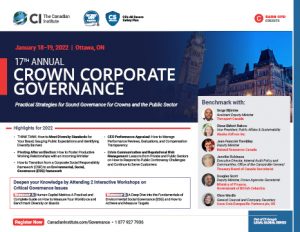 Conference Program
Flip through our 2022 conference brochure and discover what's new this year.
View brochure
Pre-Conference Workshops
Jan 17, 2022
8:30am – 12:00pm
Jan 17, 2022
1:00pm – 4:30pm
Speakers


Frédéric Duguay
General Counsel and Corporate Secretary
Canada Infrastructure Bank


Chad Eggerman
Partner
MLT Aikins LLP
Day 1 - Tuesday, January 18, 2022
| | |
| --- | --- |
| 8:00 | Registration Opens and Refreshments are Served |
| 9:00 | |
| 9:15 | THINK TANK ON BOARD DIVERSITY |
| 10:15 | CASE STUDY |
| 11:15 | Networking Refreshment Break |
| 11:30 | HYPOTHETICAL SCENARIOS |
| 12:15 | PANEL |
| 1:00 | Networking Luncheon for Speakers and Delegates |
| 2:00 | THINK TANK |
| 3:00 | |
| 3:30 | Networking Refreshment Break |
| 3:45 | |
| 4:30 | KEYNOTE |
| 5:00 | Closing Remarks from the Chair |
Day 2 - Wednesday, January 19, 2022
| | |
| --- | --- |
| 8:00 | Registration Opens and Refreshments are Served |
| 9:00 | |
| 9:05 | |
| 9:35 | |
| 10:15 | Networking Refreshment Break |
| 10:30 | LIVE AUDIENCE POLLING |
| 11:30 | PANEL |
| 12:15 | Networking Luncheon for Speakers and Delegates |
| 1:30 | FOCUS ON EMPLOYMENT |
| 2:30 | ONBOARDING NEW BOARD MEMBERS |
| 3:15 | Networking Refreshment Break |
| 3:30 | PANEL |
| 4:15 | SPOTLIGHT |
| 5:00 | Closing Remarks from the Chair |
Day 1 - Tuesday, January 18, 2022
8:00

Registration Opens and Refreshments are Served

9:00

Thomas H. Yeo
Counsel
Torys LLP

Carlton D. Mathias
Vice President Law, ESG and Corporate Secretary
Ontario Power Generation Inc.

9:15

THINK TANK ON BOARD DIVERSITY

Alicia Dubois
Chief Executive Officer
Alberta Indigenous Opportunities Corporation

Shalini Konanur
Executive Director, Lawyer
South Asian Legal Clinic of Ontario (SALCO)

Dr. Rebecca Jaremko Bromwich
EDI (Equity, Diversity and Inclusion) Manager
Gowling WLG

Examining board responsibility and meeting regulatory expectations
Value of diversity and inclusion
Understanding power and privilege, unconscious bias
Impact of daily verbal, behavioural and environmental indignities
How to prevent and address discrimination and harassment
Best practices for workplace diversity and inclusion
Exploring public perspectives of diversity and expectations, and discussing whether your board is representative of the community it serves
Examining what tools can be used for benchmarking diversity
Examining discriminating policies and implementing more inclusive policies
Examining the board's role in succession planning

10:15

CASE STUDY

Jennifer Robinson
Executive Director, Internal Audit Policy and Communities, Office of the Comptroller General
Treasury Board of Canada Secretariat

Joanne Larocque-Poirier
Chief of Staff & Corporate Secretary
Canada Council for the Arts

Gain actionable strategies as you compare and contrast two ambitious recruitment campaigns to increase representation of Women, Indigenous Canadians, members of visible minority groups and persons living with a disability.

The development and implementation of a robust diversity action plan including ground-up strategies for recruiting
Identifying barriers and overcoming obstacles
Reporting on the results and the Board's stewardship and oversight role
Clearly defining roles & responsibilities to support inclusion
The importance of succession planning
Best practices and lessons learned in achieving alignment with labour market availability rates for under-represented groups

11:15

Networking Refreshment Break

11:30

HYPOTHETICAL SCENARIOS

John Bradley
Manager, Digital Forensics and Investigations
City of Toronto

William Platt
Partner, Forensic Services
PwC Canada

Join this critical look at a forensic examination following both real and hypothetical cyber security events. Delve into the recommendations that will safeguard your corporation.

Calculating risk thresholds for government and shareholders
Identifying disruption and calculating the amount of disruption, and mitigating disruption
Best practices and policies on handling ransomware
Evaluating commercial and professional liability on insurance policies

12:15

PANEL

Douglas Scott
Deputy Minister, Crown Agencies Secretariat
Ministry of Finance, Government of British Columbia

Ensuring government policy is aligned and harmonized across federal, provincial and municipal organizations
How data can affect decision making when implementing policy

1:00

Networking Luncheon for Speakers and Delegates

2:00

THINK TANK

Serge Bijimine
Assistant Deputy Minister
Transport Canada

Jean-Francois Tremblay
Deputy Minister
Natural Resources Canada

Exploring the impacts of a federal election on crown corporate governance
Best practices for briefing a new minister, managing the relationship and conducting good governance
Measuring the success of an ambitious or late-coming mandate
How to pivot amid evolving ministerial policy objectives while maintaining consistency with corporate policies?
How can boards work optimally with government when there is instability in the company management?

3:00
3:30

Networking Refreshment Break

3:45

Balancing the role of the PCO and the role of the board during a performance appraisal
Reporting requirements for PCO and conducting a thorough performance appraisal
Tactical ways to maintain board independence
Impact of publicly released information on board compensation and maintaining transparency
Determining the extent to which board members play an active role in the crown's business model and strategies for a successful crown
Implementing performance reviews and self-assessments either internally or via independent third-parties
Achieving consistency on performance management
Establishing individual assessments for directors and how this impacts director's accountability
Keeping the public in the know about performance assessments without releasing confidential information

4:30

KEYNOTE

Chantal Guay
CEO
Standards Council of Canada

5:00

Closing Remarks from the Chair
Day 2 - Wednesday, January 19, 2022
8:00

Registration Opens and Refreshments are Served

9:00
9:05

Dilhari Fernando
General Manager, Corporate Sustainability
Canada Post

Nick Xenos
Executive Director, Centre for Greening Government
Treasury Board Secretariat

Achieving Net-zero emissions by 2050
Adopting low-carbon mobility solutions, deploy supporting infrastructure in its facilities and modernize its fleets
Maintaining a current, net-zero climate-resilient real property portfolio plan to determine the most cost-effective pathway to achieve net-zero, climate-resilient real property operations by 2050
Minimizing disruptions and damage to its assets, services and operations related to the impacts of climate change

9:35

Clare Wardle
General Counsel and Company Secretary
Coca-Cola Europacific Partners plc, UK

Diana Birkett Rakow
Vice President, Public Affairs & Sustainability
Alaska Airlines Inc.

Reporting on physical risk, including climate change impacts assets and operations
Reporting on transition risk, such as transitioning from to a lower carbon economy, including policy, legal, technology, market, and reputational risks
What is the standard for ESG and what is the standard for disclosure
Developing a strategy for governance and reporting on government recommendations
Reevaluating policies to reflect long-term environmental stewardship
Strategies for effectively responding to shareholders about climate change implications

10:15

Networking Refreshment Break

10:30

LIVE AUDIENCE POLLING

Randy Jackiw
Assistant Deputy Minister, Economic Development
Ministry of Agriculture, Food, and Rural Affairs, Government of Ontario

Nancy Kennedy
Senior Vice President, People & Culture
Ontario Lottery and Gaming (OLG)

Brad Krizan
Board Chair, Independent Director - Public Member
Alberta Motor Vehicle Industry Council

Recognizing indications and changes in public expectations
Identifying triggers for corporate re-invention, privatization, and selling
Gauging the appetite for adopting a higher risk versus maintaining caution
Identifying barriers to corporate adaptation

11:30

PANEL

Capt. Jack Gallagher
Chair
Atlantic Pilotage Authority

Jacqueline Nelson
Managing Director, Corporate Communications
Canada Pension Plan Investment Board (CPP Investments)

Best practices for decision making when developing a communication strategy with the public, including what expertise and advise was solicited in the decision process?
How is the effectiveness of a communication strategy measured?

12:15

Networking Luncheon for Speakers and Delegates

1:30

FOCUS ON EMPLOYMENT

Raquel Chisholm
Partner
Emond Harnden

The federal Pay Equity Act (2021) effective in August 2021, will affect federally regulated private and public sector employers
Bill C-65, An Act to amend the Canadian Labour Code (harassment and violence), the Parliamentary Employment and Staff Relations Act came into effect January 2021.
Amendments to the Public Service Employment Act (2021) In June 2021, strengthen provisions to address potential bias and barriers in staffing processes and reaffirm the importance of a diverse and inclusive workforce.

2:30

ONBOARDING NEW BOARD MEMBERS

Rick Hancox
Governor, Chair, Governance Committee, Board of Governors
New Brunswick Community College (NBCC)
Secretary-Treasurer, Chair, Audit Committee, Finance & Risk Committee
Institute of Public Administration of Canada (IPAC)
Chair, Human Resources Committee
Credit Counselling Canada
Former CEO, Financial & Consumer Services Commission

Achieving board excellence by appointing qualified board members
Matching the board members experience to the open position
How does the government give board members authority in the hiring process for board members?
Board member nominations via independent third parties
Board succession challenges
Establishing term limits

3:15

Networking Refreshment Break

3:30

PANEL

Anna Keller
Senior Counsel
Canadian Commercial Corporation

Thomas H. Yeo
Counsel
Torys LLP

Delivering crucial infrastructure cum energy projects will be key to an efficient economy particularly in the current post pandemic environment hence my suggestions below for an open discussion as to how we can best deliver those.

Streamlining the procurement process and when to escalate the conversation to the board level
Balancing the responsibility to uphold international trade agreements against a "buy local" mentality
Serving the public interest and how federal, provincial and municipal Crowns can align their procurement rules and Canadian, local and Indigenous content given our international trade agreements
Examining rules for disclosure and transparency including ESG-related disclosure

4:15

SPOTLIGHT

Under the Financial Administration Act (FAA) a Crown corporation may be audited to ensure it is maintaining systems and practice to ensure assets are safeguarded and controlled and to ensure resources are managed economically and efficiently, and its operations were carried out effectively

What is required and expected by the audit team
Examining the role of the audit committee, the board of directors, parliament and the minister
Examining the terms of the audit including the systems and practices identified for examination
Recourse for disagreement between the audit team and the board of directors

5:00

Closing Remarks from the Chair
Human Capital Metrics: A Practical and Complete Guide on How to Measure Your Workforce and Benchmark Diversity on Boards
What is it about?
In this hands-on workshop, you will benefit from real life examples, pitfalls to avoid and the latest best practices. Don't miss this detailed, in-depth look into the metrics that are needed to clearly differentiate your organization from your competitors, drive accurate reporting, and foster board and investor confidence. This workshop is only being offered in-person.
Topics will include:
Assessing the current state of your human capital reporting and disclosure
Evaluating your organizational data collection and reporting capabilities, in order to assess and deploy the changes that may be needed to access and interpret the required data
Identifying the crucial metrics for reporting, such as: overall human capital performance; recruiting and retention initiatives; diversity, equity and inclusion; employee value and development; organizational safety, health and well-being; and other critical metrics that are key for your stakeholders
Determining key performance indicators (KPIs) and quantifiable performance measurements based on internal and external benchmarks
Analyzing the data to develop the narratives that link disclosures to business intent, strategy and results
A Deep Dive into the Fundamentals of Environmental Social Governance (ESG) and How to Achieve and Measure Targets

Frédéric Duguay
General Counsel and Corporate Secretary
Canada Infrastructure Bank

Chad Eggerman
Partner
MLT Aikins LLP
What is it about?
This introductory session will address how Environmental, Social and Governance (ESG) applies to a corporate context, including how to measure the company's performance, how to measure the company's environmental impact and initiatives, as well as social and governance operations. This workshop is only being offered in-person.
Assessing your company's environmental performance, including production of Greenhouse Gas emissions, as well as waste and water usage
Discussing environmental targets and strategies for meeting government targets, such as emission targets
Assessing your company's social license to operate, including:

Evaluating safety measures to protect employees and the company from incidents, fines and reputational damage
Ensuring third-party suppliers and supply chains are complying with employment laws, including anti-slavery laws and fair-trade agreements

Evaluating the board's role in ESG decisions, including board independence