Virtual Conference On-Demand
Anti-Money Laundering and Financial Crime
Catch-up on critical information – on your own time.
The 20th Annual Forum on Anti-Money Laundering and Financial Crime took place May 4–5, 2021. Our outstanding faculty share insights on the most compelling topics impacting their daily lives and practices. See a snapshot of the event below then purchase the recording to watch at your convenience.

Karen Creen
CAMLO & Senior Compliance Officer
Bank of China
Michael Burgess
Senior Manager – Major Investigations/Demarkets
BMO Financial Group
20th Anniversary Highlights
Alumni panel of former law enforcement officials share lessons learned for intelligence, enforcement, and compliance
FINTRAC Townhall: Gain clarity impending compliance requirements under the PCMLTFA
COVID-inspired fraud schemes to watch out for: from PPE to vaccines and potential future tactics
Focus on AML Analytics and Technology: A glimpse at machine learning for model management followed by an interactive vendor showcase
Trade-Based Money Laundering in the Pandemic: Typologies, Trends and Hot Spots to Watch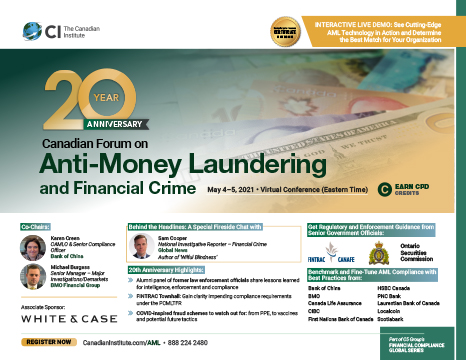 Conference Program
Look at our 2021 conference agenda to discover the informative topics discussed at this event
View Program
¹ Please note that some sessions may not be available. Speakers have the right to decline redistribution of their session at any time before, during, or after the conference. Please email [email protected] to request exclusions prior to purchase.
² Sharing these recordings of the virtual conference either by audio or video is not permitted without prior express written consent of The Canadian Institute. Speaker permission must be obtained for use of presentation content in news coverage/articles.