Please fill in your details below: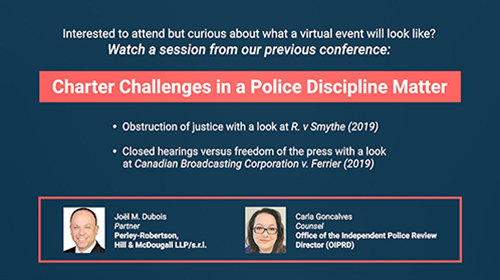 Watch this informative session on Charter Challenges in a Police Discipline Matter with two distinguished speakers:
Carla Goncalves is counsel at the Office of the Independent Police Review Director ("OIPRD"). Ms. Goncalves is a graduate of the University of Toronto and Osgoode Hall Law School. Since 2010, she has been working as counsel at the OIPRD. She has appeared on behalf of the Director at the Court of Appeal, Divisional Court, Superior Court of Justice, Youth Court, Information and Privacy Commissioner, Human Rights Tribunal, police services boards across Ontario and the Ontario Civilian Police Commission.
Joël M. Dubois, Partner at Perley-Robertson, Hill McDougall LLP in Ottawa. For the past ten years, Joël has focused his practice on police law matters, including conducting prosecutions under the Police Services Act; appeals to the Ontario Civilian Police Commission; human rights tribunal proceedings as well as interest and rights arbitrations. Joël handles many police policy and regulatory matters on behalf of police management as well as court matters, including judicial reviews. He is fully bilingual and is an active member of the Ontario Association of Chiefs of Police.
Please fill in your details below:
---
How We Will Use Your Data
We will process your personal data in order to provide you with the information that you have requested, and to share information about our events and products, deemed relevant to you, in accordance with our Privacy Policy. If you have any questions about how we will use your personal data, or our privacy policy, please contact [email protected].
The Canadian Institute has not authorized the use or sale of its list by any outside organization. Anyone claiming to have our list is not legitimate.
If you decide that you no longer wish to receive information about our events and products, you can contact us any time at [email protected]. Each of our marketing communications (whether by email, phone, facsimile, post or SMS) will also include an appropriate and easy way for you to unsubscribe.
The Canadian Institute, C5 Group of Companies, 1329 Bay Street, 3rd Floor, Toronto, ON M5R 2C4 Canada T: 1-877-927-7936 E: [email protected]
---