Download Agenda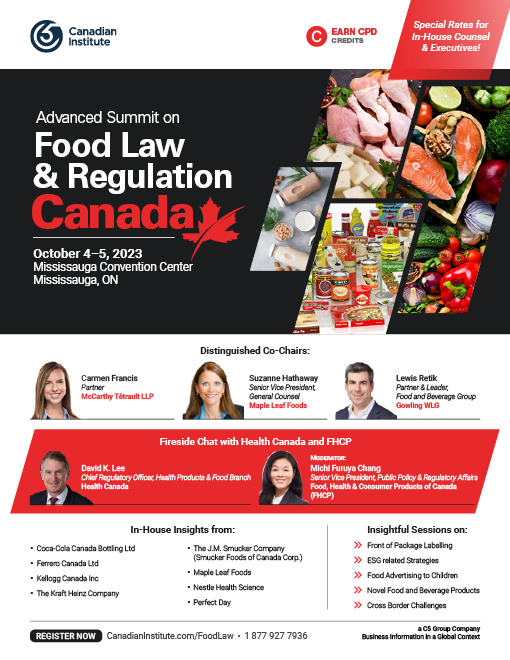 Discover the Complete Agenda for Food Law and Regulation Canada!
Engage in Critically Important Discussions Including:
Front of Package Labelling
ESG related Strategies
Food Advertising to Children
Novel Food and Beverage Products
Cross Border Challenges
Attend and Gain In-House Insights From:
Ferrero Canada Ltd
Kellogg Canada Inc
The Kraft Heinz Company
The J.M. Smucker Company (Smucker Foods of Canada Corp.)
Maple Leaf Foods
Nestle Health Science
Perfect Day
Complete the form to view the full agenda.

We can't wait to see you at the Advanced Summit on Food Law and Regulation Canada this October!
Please fill in your details below.
---
How We Will Use Your Data
We will process your personal data in order to provide you with the information that you have requested, and to share information about our events and products, deemed relevant to you, in accordance with our Privacy Policy. If you have any questions about how we will use your personal data, or our privacy policy, please contact [email protected].
The Canadian Institute has not authorized the use or sale of its list by any outside organization. Anyone claiming to have our list is not legitimate.
If you decide that you no longer wish to receive information about our events and products, you can contact us any time at [email protected]. Each of our marketing communications (whether by email, phone, facsimile, post or SMS) will also include an appropriate and easy way for you to unsubscribe.
The Canadian Institute, C5 Group of Companies, 1329 Bay Street, 3rd Floor, Toronto, ON M5R 2C4 Canada T: 1-877-927-7936 E: [email protected]
---