KEYNOTE | Ministry of Infrastructure's Funding Forecast in Aftermath of COVID-19
WATCH FREE SESSION
---
The federal government is investing billions of dollars in transit investments across Canada to prepare for growth, improve mobility and ensure communities are connected in more complete ways. Hear how projects are being prioritized and what's in the pipeline to assist transit agencies in recovering from the impact of COVID-19. Ensure your project is well-positioned to qualify for and benefit from legislative funding options.
Why now? Factors leading to an urgent need to invest in efficient and sustainable public transit
How will funding be allocated to municipalities? How much has been distributed and what's up for grabs?
What infrastructure stimulus funding programs are currently in place and how does the Canada Infrastructure Bank fit into the big picture?
Hear details of the CIB's $10 billion Growth Plan, which includes $1.5 billion to accelerate the adoption of zero-emission buses and charging infrastructure
Reproducing the session either audio or video is not permitted without prior express written consent of The Canadian Institute. Speaker permission must be obtained for use of presentation content in news coverage/articles.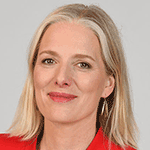 Catherine McKenna
Minister of Infrastructure and Communities
Government of Canada