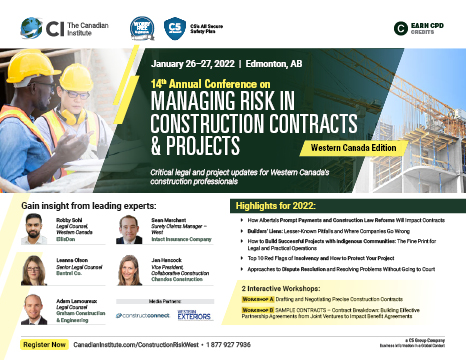 Download 2022 Brochure
Flip through our 2022 conference brochure and discover what's new this year.
VIEW FULL PROGRAM
Pre-Conference Workshops
Jan 25, 2022
9:00am – 12:30pm
Speakers


Jordan Crone
Partner
Gowling WLG
Jan 25, 2022
1:30pm – 5:00pm
Speakers


Yvan Larocque
Principal Lawyer
Miller Titerle + Company
Day 1 - Wednesday, January 26, 2022
| | |
| --- | --- |
| 8:00 | Registration Opens |
| 9:00 | |
| 9:15 | |
| 10:15 | |
| 11:15 | Networking Refreshment Break |
| 11:30 | DISPUTE RESOLUTION |
| 12:30 | Networking Lunch Break |
| 1:30 | |
| 2:15 | |
| 3:00 | Networking Refreshment Break |
| 3:15 | |
| 4:15 | Ethical Hypothetical Scenarios |
| 5:15 | Closing Remarks from the Conference Co-Chair and Conference Adjourns |
Day 2 - Thursday, January 27, 2022
| | |
| --- | --- |
| 8:30 | Registration Opens |
| 9:00 | |
| 9:15 | Think Tank on Integrated Project Delivery |
| 10:15 | Networking Refreshment Break |
| 10:30 | |
| 11:15 | Oil Gas and Power Sector Spotlight |
| 12:00 | Networking Luncheon |
| 1:00 | |
| 2:00 | Networking Refreshment Break |
| 2:15 | |
| 3:00 | Surety Bonds |
| 4:00 | Closing Remarks from the Co-Chairs and Conference Ends |
Day 1 - Wednesday, January 26, 2022
8:00

Registration Opens

9:00

Stacey Boothman
Vice President and Assistant General Counsel
Ledcor Industries Inc., Legal

9:15

David Tupper
Partner
Blake, Cassels & Graydon LLP

Peter Vetsch
Partner
Rose LLP

Assessing Bill 37 and what the changes to the Prompt Payment Act means for owners and contractors.

Examining changes to payment timelines and invoicing, the adjudication process, lien registration and anticipated risks; implications of exclusion for government contracts
Reviewing construction act reforms across the country and lessons learned from Ontario, Saskatchewan, BC; legislative updates and case law
Learn how the changes affect you and what steps you can take to protect your organization whether you are an owner, a contractor or subcontractor, an architect or engineer

10:15

Robby Sohi
Legal Counsel, Western Canada
EllisDon

Chastine Taerum
Associate General Counsel - Infrastructure
Ledcor

After the COVID-19 pandemic delayed construction sites, owners are now faced with delay claims that need to be resolved quickly and they must know how to prepare for better outcomes. This session will focus on how to effectively manage your project's risk from contract drafting to remedying disputes with a special focus on quantification of damages when dealing with health and safety-related impacts on construction projects.

Navigating the complexities of contractual agreements to ensure they're successfully negotiated, structured and drafted with every member of the team
Clearly establishing expectations and responsibilities of all stakeholders from the beginning to the end of the project
Understanding how COVID-related clauses are being worked into contracts: the role of force majeure provisions, delay claims, productivity claims, disruption claims
Strategies for addressing issues such as physical distancing, cleaning and sanitation, appropriate screening, etc. within existing contractual frameworks
Exploring the ripple effects from broken supply chains, reduced workforce, late delivery of materials, and difficulties of procurement from non-domestic sources, etc.

11:15

Networking Refreshment Break

11:30

DISPUTE RESOLUTION

Leanna Olson
Senior Legal Counsel
Bantrel Co.

Preet Saini
Associate
McMillan LLP

Jerry Crawford
Principal Director
KGC Consulting Services Ltd.

Construction projects are complex and multi-faceted endeavors involving many parties with individual needs and interests, resulting in a greater likelihood that disputes will arise. Identifying common construction claims and working to avoid them must constitute an essential part of each party's risk management plan.

What are your dispute resolution options under your contract? Should you consider mediation or arbitration instead, and why?
How to clearly establish expectations and responsibilities at the outset of a project by striking a balance in priorities
Adequately defining project scope with the intention of avoiding cost overruns and disputes
Maximizing your awareness and preparedness for potential setbacks at every stage of the project
Anticipating potential disputes and strategizing means of deterring and resolving them

12:30

Networking Lunch Break

1:30

Sean Parker
Partner
McLennan Ross LLP

Establishing the cause of the contamination, whether recent or historic
Determining if the contamination was caused by the current owner, the previous owner, or a neighbouring site
Discussing how the spread of contamination can change who is at fault, and when
Seeking compensation from a third party for costs incurred during the prevention or remediation of damage
Actions for recovering costs when the third-party is insolvent or no longer operating

2:15

Melanie Gaston
Partner
Osler, Hoskin & Harcourt LLP

Amit Patel
Vice President & General Manager
Turner Construction Company – Canada

Changes in scope happen, but it is in the best interest of all parties that they do not cause significant delays and conflict. Clear communication and understanding of what is involved in the change and having a fulsome view of the full impact of proposed modifications throughout the contract chain, from supply of materials, to increased work, delays, and labour consideration are critical. Identifying the changes to avoid costly remediation work is also a necessary risk management point.

Why are change orders necessary?
How to manage expectations and ensure all parties are treated fairly
Establishing a change management mechanism to anticipate the need for potential change orders
Tracking change orders and paying for them
Issuing notifications of change and delay to ensure proper and timely execution
Ensuring that timelines established in the contract are followed with respect to delays caused by changes
The Courts' view of changes and who is liable

3:00

Networking Refreshment Break

3:15

Tim Mavko
Partner
Reynolds Mirth Richards & Farmer LLP

Bryan G. West
Partner
McCarthy Tetrault LLP

This session will offer a deep dive into how builders' liens work, the nature of a lien and other related issues to provide you with a practical understanding of where companies go wrong and practical tips on how to meet the obligations.

How do liens arise and what are the rights and procedures to create a lien?
What items are properly included in a lien?
How do the transition rules affect the timelines for liens?
What are your obligations and rights in creating a lien?
Defending and vacating a lien to make sure it doesn't completely derail your project
Understand and know the process of liens and how a lien can be resolved and disposed of expeditiously
Understanding the implications of a lien on a project

4:15

Ethical Hypothetical Scenarios

Brian P. Reid
Partner
Bennett Jones

Dennis L. Picco, Q.C.
Partner
Dentons

This session will provide a breakdown of key ethical issues to consider and best practices to implement when dealing with joint ventures in construction projects.

Understanding ethical issues in larger projects: Who are you representing when you're representing one of the joint venture members as well as the joint venture?
Exploring cases related duty of good faith/duty of honest performance in construction contracts
Comparing approaches taken by Ontario and Alberta courts and overarching impacts from a legal perspective

5:15

Closing Remarks from the Conference Co-Chair and Conference Adjourns
Day 2 - Thursday, January 27, 2022
8:30

Registration Opens

9:00
9:15

Think Tank on Integrated Project Delivery

Terri Gosine
Director, Integrated Infrastructure Services
Edmonton Public Schools

Jen Hancock
Vice President, Collaborative Construction
Chandos Construction

Adam Lamoureux
Legal Counsel
Graham Construction & Engineering

Craig Webber
Principal/Architect
Group2Architecture Interior Design Ltd.
President, Integrated Project Delivery Alliance (IPDA)

This session will introduce a variety of construction models, with an in-depth look at IPD and the risks associated with delivering an IPD project in Canada

Examining the successes and challenges to date of traditional Design-Bid-Build, Design-Build, P3s, using real-world experiences; what are the risks associated with each?
How is IPD distinct from more traditional Design-Build and Design- Bid-Build models?
Identifying whether IPD would be a match for your project; when IPD works and when it does not
Reviewing the challenges in bringing IPD projects to the market; what projects are ideal for this type of collaborative contract?
Resolving contractual disputes in an IPD model – does one contract really simplify dispute resolution? Can a unified contract help to minimize cost overruns and prolonged disputes?
Industry insight and real-world examples from IPD projects

10:15

Networking Refreshment Break

10:30

Visualizing your project through Building Information Modeling (BIM)
Managing the flow of information to capture changes using BIM to ensure that every project partner is apprised of progress and changes
What are the liability implications amongst the parties of using BIM?
What are the issues for owners, consultants, contractors and sub-contractors with regard to their handling of BIM files?
Who owns what, and who is responsible for changes in the BIM system?
Protecting Intellectual property rights

11:15

Oil Gas and Power Sector Spotlight

Shane Nickolson
Director, Pre-Construction (Industrial)
Graham Group

Construction projects in the energy sector, present unique challenges and considerations when negotiating engineering, procurement, and construction contracts. The market is seeing different pricing arrangements as the tension continues between owners facing cost pressures and contractors are becoming less willing to accept risk.

Monitor current market trends and strategize your negotiations accordingly
Recognize the potential limits of standard contract templates for use on projects and examine innovative approaches
Identify the best avenues for obtaining a reasonable contact risk-allocation with commercial balance
Address potential third-party financing concerns for your contracting strategy and in your documents
Navigating project risk associated with political decisions

12:00

Networking Luncheon

1:00

David de Groot
Partner
Burnet Duckworth & Palmer LLP

Paul Ryzuk
Partner
Miller Thomson LLP

Subcontractors, trades, and suppliers play an important role in construction projects. It is important to make sure that risks are appropriately allocated between owners, contractors, sub-contractors, suppliers, and trades. This session will address:

Issues arising out of standard-form subcontracts
Flow-down provisions, pay-when-paid clauses, and dispute resolution clauses
Deficiencies and warranties
Differences between trade contractor vs subcontractor and subcontractor vs supplier

2:00

Networking Refreshment Break

2:15

Chad Eggerman
Partner
MLT Aikins LLP

What are the key differences between on-reserve and off-reserve projects?
What are the important legal risks to consider from the perspective of a First Nation owner, contractor, subcontractor and supplier?
How are Indigenous construction projects typically financed?
How does the procurement process differ for indigenous construction projects? What needs to be considered in both drafting and responding to a procurement process for an indigenous project?
How are First Nation owned construction projects typically structured?
Are there particular issues to address with builders' liens on indigenous construction projects?
From the perspective of both a First Nation and a contractor are cultural considerations relevant in an indigenous construction project?

3:00

Surety Bonds

Joshua Sadovnick
Partner
Norton Rose Fulbright LLP

Sean Marchant
Surety Claims Manager – West
Intact Insurance Company

Many construction contractors have dealt with and continue to deal with significant financial constraints coming through the pandemic, and some may face insolvency. This session will focus on surety bonds: why you need them, how they work, the claim process, who needs to be involved, etc.

How are surety claims or surety bonds impacted by COVID-19?
Ensuring you're protected from contractor insolvency as companies struggle to recover from effects
How will the Companies' Creditors Arrangement Act or Bankruptcy and Insolvency Act impact your projects?

4:00

Closing Remarks from the Co-Chairs and Conference Ends
Workshop A — Drafting and Negotiating Precise Construction Contracts

Jordan Crone
Partner
Gowling WLG
What is it about?
Effective construction contracts combine up-to-date legal strategies with the flexibility to manage a project's on-the-ground challenges and risks. Learn how to draft and negotiate construction contracts with the precision needed to effectively manage your project's risk, protect your timelines, and remedy disputes when they arise. This workshop is only being offered in person and will include a 30-minute break.
Adequately defining project scope in order to prevent disputes
Allocating risk across all contractual parties – addressing that risk through robust insurance provisions
Contractual intent in the fact matrix – going beyond contractual language to interpret intent of the parties
Workshop B — SAMPLE CONTRACTS – Contract Breakdown: Building Effective Partnership Agreements from Joint Ventures to Impact Benefit Agreements

Yvan Larocque
Principal Lawyer
Miller Titerle + Company
What is it about?
Take a deep dive into real-life partnership contracts, clauses and focus on how to tailor contracts to your organization. This workshop is only being offered in person and will include a 30-minute break.
Understanding joint ventures, management agreements, partnerships and strategic alliances including agreements with Indigenous communities and businesses
Drafting consultation and accommodation policies and agreements
Partnering with resource-sector business including forestry, mining, energy, construction, oil & gas, and tourism