Welcome to CI's Indigenous Affairs Resources and Articles page. This page will be updated regularly with whitepapers, journals, news and opinions developed by key stakeholders that CI has created relationships with. Our goal in providing the information below is to provide you with original content and insights that will help you deliver value to your organization. If you would like to contact us to offer feedback or ideas, please send an email to [email protected].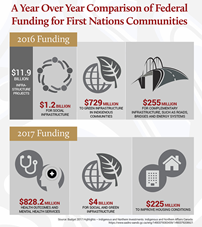 A Comparison of Federal Funding for First Nations Communities
Read Now
The Canadian Government has allocated an additional $3.4 billion over five years for housing and infrastructure projects for Indigenous communities, as part of the 2017 federal budget. This is on top of the $120 billion allocation announced in 2016.
Posted on November 3, 2017